Year-end school holidays are coming ! For those parents that seeking for activities for family during this school break or don't have any idea what to do in Malaysia during this break? Why not bring your loved ones visit one of the biggest, friendliest indoor activity park in Malaysia –  SuperPark Malaysia.
SuperPark is originated in Vuokatti, Finland in 2012. Since then, they expand their business to Asia market such as China, Hong Kong, Singapore, and Malaysia.
This 40,000 square feet park is enough to keep you entertained for a whole day. Basically, this park will be divided into three distinct themed areas: the Adventure Area, the Game Arena and the Freestyle Hall. Visitors may enjoy more than 20 fun and challenging activities under one roof.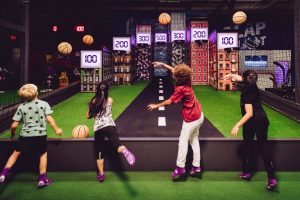 What you can expect?
Adventure Area – Pedal Car TrackFeel the need for speed? Then this is a must-visit-place for you to compete with your family and friends. SuperPark's car is so stylish and easy to drive. This track allows you to be as competitive as you feel necessary. But remember – safety comes first.
Game Arena – Street BasketballAre you the basketball player that seek to perform a slam dunk like those NBA stars? You really don't have to be that tall at all to perform a slam dunk at here. No matter you want to present a one-handed dunk or two-handed dunk, it can be done by here. Show off your skill now!
Freestyle Hall – Obstacle WallIf pedal car or street basketball is not your thing, why not try this ! One of the activity that can build your muscle mass and burn some calories at the same time. Challenge this wall with your loved ones , see how well you can support each others.

Reportedly, SuperPark Malaysia will operate their business on the first week of December at Avenue K Shopping Mall.

Entrance tickets range from RM30 to RM70 per ticket (tickets price vary from weekdays and holidays)

Come and explore, try some different sport activities and unleash your inner child today! Have a blast in this family-centred approach park this holiday.

For latest update from them, please visit SuperPark Malaysia.